Floor Cleaning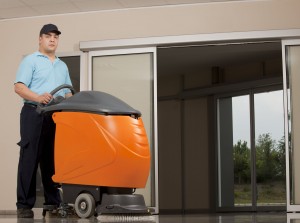 Why use specialized floor cleaning services?
Most dirt is transported into your building on foot. As a result, germs usually build up on a floor first.
So, whether it's sweeping, mopping, or scrubbing, professional floor cleaning services are the best way to maintain the hygiene and positive appearance of your building at all times.
"Cape Coral Cleaning Services"'s specialized floor cleaning services make use of various methods, tools and detergents in order to ensure that the floors of your business premises stay clean and hygienic on an ongoing basis.
When it comes to business, first impressions count, especially with prospective clients. That first contact with a customer can make or break any future interactions with them.
Besides keeping germs at bay, our floor cleaning services also help to maintain high standards of appearance in your building. This is especially important if you're hosting clients or customers at your business premises.
As a professional floor cleaning company, we can often achieve optimal results with regularly scheduled visits, although one appointment can often produce significant improvements.
We clean the following floor surfaces:
•             Concrete
•             Wood
•             Vinyl
•             Metal
•             Carpet
We have a dedicated team of trained professionals that specialize in all types of hard floor cleaning, including:
•             Ceramic tile floors
•             Porcelain tile floors
•             Terracotta tiled floors
•             Mosaic tile floors
•             Quarry tiled floors
•             Natural stone tiled floors
•             Marble tile floors
•             Slate tile floors
•             Granite tile floors
•             Hardwood floors
The most environmentally friendly methods are always sought by our team of expert floor cleaners.We have carried out work in hotels, offices, stadiums, workshops, warehouses, and a wide range of other environments.
Our benefits:
•             We always do what is right
•             Increase perceived brand value
•             Demonstrate honesty, integrity, and a hard work ethic
•             Total customer satisfaction
•             Go the extra mile
•             Persevere with a servant's attitude
•             Our teams are available24 hours a day, 7 days a week
We can provide a hard floor cleaning or carpet cleaning service as part of a contract, or on a one off basis. Whatever your budget or requirements, we will provide a customized cleaning package to match.
You want your property to always look its best. By using our cleaning services, you can trust that your floors will always shine for visitors. Call us today at (561) 123-1234.
Contact Us
Cape Coral Cleaning Services
Cape Coral, FL, 33909
Call Us: (561) 123-1234
CapeCoralCleaningServices.com
Jupiter Skin Sidebar Banner
ADDRESS
Cape Coral Cleaning Services
Cape Coral, FL, 33909
Phone: (561) 123-1234
Email: business@email.com